Working hard for the bald ibis
| | |
| --- | --- |
| Zoo support since: | 2002 |
| Conservation status on the Red List: | endangered |
| Location of conervation project: | Austria, Germany, Italy, Switzerland |
The bald ibis needs our help!
Donate now!
The bald ibis is one of the most highly endangered bird species in the world. It was extirpated in Europe in the 17th century. Schönbrunn Zoo has supported the efforts to study and reintroduce this fascinating bird since the onset of this project in 2002. The bald ibis is a migratory bird. It needs to learn its flight route to the overwintering grounds from its parents within the first year of its life. This flight tradition, however, was lost with last free-living bald ibis in Europe. In the framework of a new LIFE project, three new breeding colonies are being founded in Goldau (Switzerland), Bussolengo (Italy) and in Rosegg (Austria) in addition to the three previously established colonies in Austria and Germany.
Measures
Chicks that hatch in zoos are hand-raised and therefore imprinted on human foster parents. These foster parents then show the birds the flight route – as co-pilots in ultralight airplanes (human-led migration). The trip takes them to the overwintering grounds around the nature reserve WWF Oasi Laguna di Orbetello in Tuscany. At an age of two to three years, the bald ibises can migrate independently to the brooding grounds and brood there: they can then take their own young down south and establish their own migratory tradition.
In 2022, a total of 57 juvenile birds was released into the wild. By now, the region of the Alps is home to around 201 Northern Bald Ibises. The goal is to increase the population to 357 individuals. According to calculations, this amount is needed for the species to survive independently in the future. The hard work and dedication of all partners of the EU-funded LIFE project led by Schönbrunn Zoo still is the only chance for preserving this bizarre bird in its´natural habitat for future generations. The project's motto "Reason for Hope" is no coincidence: In 2022, 46 young birds have already hatched and fledged in the wild – they are the offspring of Northern Bald Ibises that were re-introduced througout the last years.
Two of the major causes of mortality in the free-flying population are poaching (in Italy) and electrocution at unsafe overhead powerlines (in Austria). In order to protect and to study ibises which hatch in the wild long term, many individuals are being equipped with small transponders. The GPS signals emitted by those birds, allow us to follow their migration routes continuously via the App "Animal Tracker".
This is how Schönbrunn Zoo is supporting the project:
coordinating the project "LIFE Northern Bald Ibis" (LIFE20 NAT/AT/000049 – LIFE NBI) with 9 project partners
providing infrastructure for food preparation, chick hand-raising as well as accompanying public relations measures
presentation of the project during guided tours and events
zoo director Stephan Hering-Hagenbeck and the zoo's curator for conservation, Regina Kramer, are on the board of the bald ibis team sponsorship association
captive breeding efforts
financial support
This is what our partners have to say: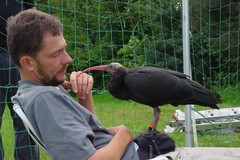 Johannes Fritz, director of the "Waldrappteam Conservation & Research" (bald ibis team): "Our work would hardly be possible and the survival of the bald ibis in grave doubt without the international, stable zoo population. Schönbrunn Zoo is therefore a crucial partner for the success of our species protection project, both as a resource for chicks and as an important funder. Our combined efforts can help ensure that the bald ibis once again returns to parts of its historical range."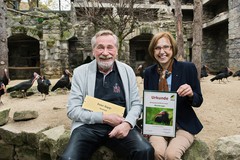 Peter Rapp, honorary bald ibis patron:
 The show host Peter Rapp has a soft spot for this bird (whose German name – Waldrapp – shares the same word root). He is an honorary patron of Schönbrunn Zoo's bald ibises and, together with the zoo, is helping draw attention to the reintroduction project. In Peter Rapp's own words: "Their curved beaks, bald head and black feather crest makes these birds look quite odd, and I have a soft spot for odd fellows."
| | |
| --- | --- |
| Project partners: | Förderverein Waldrappteam, Tierpark Goldau, Tierpark Rosegg, Parco Natura Viva, Fondazione A.R.C.A., WWF Germany, , Land Salzburg, Netz OÖ GmbH, Kärnten Netz GmbH |
| Sponsors | European Union (LIFE Programme), Deutsche Wildtier Stiftung, Edith-Haberland-Wagner Stiftung, AJS Förderstiftung, HIT Umwelt- und Naturschutz Stiftung GmbH, zooschweiz, Artenschutzstiftung Zoo Karlsruhe, Stadt Burghausen, Münchner Tierpark Hellabrunn AG,  Federal Ministry for Climate Action, Environment, Energy, Mobility, Innovation and Technology, , Bund Naturschutz in Bayern e.V. - Kreisgruppe Altötting |
Scientific publications on the bald ibis:
Fritz J (2021) The European LIFE+ northern bald ibis reintroduction project. Oryx , 55 (6): 809 – 810.
Fritz J, Eberhard B, Esterer C, Goenner B, Trobe D, Unsöld M, Voelkl B, Wehner H & Scope A (2020) Biologging is suspect to cause corneal opacity in two populations of wild living Northern Bald Ibises. Avian Research 11:38, 1-9. https://doi.org/10.1186/s40657-020-00223-8
Fritz J., Kramer R., Hoffmann W., Trobe D. & M. Unsöld (2017): Back into the wild: Establishing a migratory Northern bald ibis Geronticus eremita population in Europe. International Zoo Yearbook 51: 107-123
Spergser J., Loncaric I., Tichy A., Fritz J. & A. Scope (2018): The cultivable autochthonous microbiota of the critically endangered Northern bald ibis (Geronticus eremita). PLoS ONE 13(4): e0195255. https://doi.org/10.1371/journal
Wehner H, Huchler K, Fritz J, et al. (2022) Quantification of Foraging Areas for the Northern Bald Ibis (Geronticus eremita) in the Northern Alpine Foothills: A random forest model fitted with data fusion of optical and actively sensed earth observation data. Remote Sensing, 14, 1-13. https://doi.org/10.3390/rs14041015
Wirtz S., Böhm C., Fritz J., Kotrschal K., Veith M. & A. Hochkirch (2018): Optimizing the genetic management of reintroduction projects: genetic population structure of the captive Northern bald ibis population. Conservation Genetics 19 (4): 853–864