The grounds of Schönbrunn, a World Heritage Site, cover 160 hectares. Visitors can ride in comfort to all of its attractions on the diesel-powered Schönbrunn Panorama Train.
In the palace park
A tour through the palace park stops at nine stations, and at a speed of 10 to 15 km/h, lasts about fifty minutes.
Thanks to the Panorama Train, the Gloriette Hill poses no obstacle for families with very small children or for people in wheelchairs: the last train car has a hydraulic lift for wheelchairs and baby carriages as well as a boarding aid.  
Each set of three train cars will accommodate a total of 55 passengers.
Both trains run daily from 10:00 am to 18:00 (6:00 pm). They stop every hour and every half-hour at the Gloriette Hill and the Schönbrunn Palace.
A day pass costs €9.00 for adults, €5.00 for children 14 and under, and €5.00 for handicapped persons. With ticket and hand stamps, passengers can get on and off the train as often as they like.
In case of extremely bad weather the train service will be suspended.
The stations of the Panorama Train:
1: Schönbrunn Palace
2: Wagenburg
3: Hietzinger Gate
4: Zoo/Palm House
5: Tirolergarten Tavern
6: Gloriette Hill
7: Hohenbergstraße/Tivoli
8: Obelisk Fountain /Schönbrunn Spa
9: Meidlinger Gate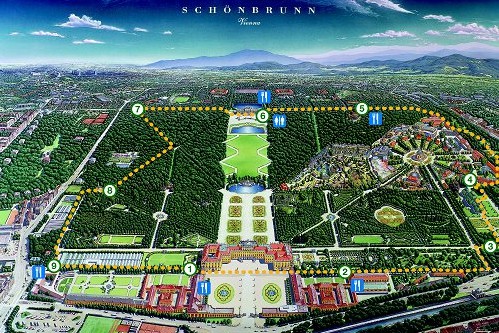 In the zoo
In the zoo, the train shuttles from 10:00 am to 18:00 (6:00 pm) between the Emperor's Breakfast Pavillion, the Elephant House, and the Tirolerhof.
Each interval lasts ca. 45 minutes.
Ticket prices: Adults  €2.00, children €1.00
Exclusive reservations for parties, tours, and sightseeing
Each of the two Schönbrunn Panorama Trains can accommodate ca. 55 passengers. The last car has a hydraulic lift for wheelchairs and baby carriages. The built-in PA system allows you to narrate your group's trip through Schönbrunn personally. Rental price per train: Shuttle from the palace to the zoo (20 min): €130
Palace park tour (60 min): €250
Contact us
+43 1 877 92 94-270