The Giant Panda needs our help!
Donate now
The Giant Panda is perhaps the global symbol of species protection. These black-and-white "bamboo bears" once ranged across large parts of China and Myanmar. The most recent census by the Chinese Forestry Office, published in 2015, revealed that – thanks to the protection measures – 1864 Giant Pandas inhabit the mountain forests of southwestern China. This means that the Giant Panda can be reclassified from "endangered" to merely "vulnerable" on the international nature conservation organization IUCN's Red List.
Measures
Since Schönbrunn Zoo received its first pair of Giant Pandas on loan from China in 2003, 27 new Panda reserves have been established, in part with financial support by the zoo. This means that the number of reserves has nearly doubled. 70% of our contributions were earmarked to protect Giant Pandas in the field; about 20% were used to support research and maintenance work at the panda stations. The remaining 10% were used to help cover the administrative expenses of our Chinese partners.
Schönbrunn Zoo is working closely with the China Wildlife Conservation Association (CWCA) to help protect the Giant Pandas. Advanced training courses are held at regular intervals – alternatingly in China and in Austria – for staff members of the panda protected areas. This is the perfect setting for developing novel conservation ideas and exchanging information about the latest technologies.
Only those who are aware of the Giant Pandas can help protect them. This is the motivation behind Schönbrunn Zoo's cooperation with various universities and zoological institutions both at home and abroad on a range of research projects designed to provide data on various aspects of Giant Panda biology. This approach means that that Schönbrunn Zoo is actively contributing to providing a solid framework for successful panda protection in China.
Aim
The aim of the project is to secure the long-term survival of the Giant Panda in China.
This is how Schönbrunn Zoo is supporting the project:
Financial support
Cooperative research activity
Captive breeding
Regular training courses
Presentation of the conservation project during guided tours and events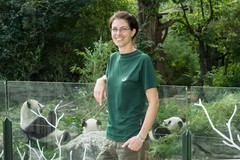 Dr. Eveline Dungl, Curator of Zoology at Schönbrunn Zoo: "A student once asked me what the consequences would be if Giant Pandas disappeared from our planet. Perhaps one of greatest problems is that we are actually unable to fully estimate the overall impact when individual species become extinct. The Giant Panda's charismatic nature and attractive appearance make it the symbol for threatened animal species worldwide. It ranks among the most important flagship species in the realm of conservation. We here at the zoo are particularly honored to provide a home for China's national pride and to tell its story. This cooperation underlines the friendly relationship between the People's Republic of China and Austria."
Project partner: CWCA
Sponsors: Österreichische Lotterien (Austrian Lotteries), Kellys
Scientific publications on the Giant Panda:
Dungl E., Schratter D. & L. Huber (2008): Discrimination of face-like patterns in the Giant Panda (Ailuropoda melanoleuca). Journal of Comparative Psychology. 122:335-343

Stoeger, A. S., Baotic, A., Li, D. & B. D. Charlton (2012): Acoustic features indicate arousal in infant Giant Panda vocalisations, Ethology 118: 896-905

Baotic A., Stoeger A.S., Desheng L. , Chunxiang T. & B. D. Charlton (2013): The vocal repertoire of infant giant pandas (Ailuropoda melanoleuca), Bioacoustics: The International Journal of Animal Sound and its Recording, DOI:10.1080/09524622.2013.798744

Griffiths K., Hou R.,Wang H., Zhang Z., Zhang L., Zhang T., Watson D.G., Burchmore R.J.S., Loeffler I.K. & M.W. Kennedy (2015): Prolonged transition time between colostrum and mature milk in a bear, the giant panda, Ailuropoda melanoleuca. Royal Society Open Science. 2: 150395. http://dx.doi.org/10.1098/rsos.150395

Braeuer S., Dungl E., Hoffmann W., Li D., Wang C., Zhang H. & W. Goessler (2017): Unusual arsenic metabolism in Giant Pandas. Chemosphere 189:418-425. https://doi.org/10.1016/j.chemosphere.2017.09.073

Heiderer M., Westenberg C., Li D., Zhang H., Preininger D. & E. Dungl (2018): Giant Panda twin rearing without assistance requires more interactions and less rest of the mother—A case study at Vienna Zoo. PLoS ONE 13(11): e0207433. https://doi.org/10.1371/journal.pone.0207433